We are very proud to bring you the following list of presenters who are all uniformly excellent and between them, appeal to the many different audiences that range the Jewish spectrum. For your convenience, we have categorized them, however, they are all versatile presenters who are not limited to the categories we have placed them in. In addition, most will develop tailor-made talks suited to the audience. Though the majority of the individuals listed are based in the United States, they are willing to travel outside, as well as within the U.S.
We hope you will find this listing beneficial to your organization and we know that each of them is an inspiration and a joy that can only further your endeavors, reaching the heart of your audience in every aspect.
Please note that our speakers maintain their own pages and arrange their own bookings. Please contact any speaker, in whom you are interested, directly for further information or to book an event. You may email them directly from their page within our Speakers Bureau.
View Our Speakers
Featured Speaker: Chaya Malka Abramson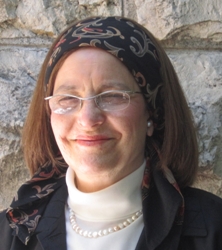 Rebbetzin Chaya Malka Abramson,founder of the Chaya Malka Burn Foundation and co-author of the international best seller, Who By Fire, keeps audiences spellbound as she chronicles the spiritual, physical and emotional transformations she has undergone during her life. From a budding fashion designer, Michele Smith, raised in Waterbury Connecticut, became Malka Abramson of Jerusalem's Old City. When she was a young mother, a horrific fire broke out in her home and while saving her Grandmother and her three children she sustained burns over 85 percent of her body. Given a one in ten chance of survival, family and friends rallied around her with fervent prayers,charity and acts of loving kindness. Her life was miraculously spared and she was given the additional name of Chaya, meaning "life". Chaya Malka relates the powerful story of her recovery and her return to normal life. Her engrossing talks always leave her audiences deeply moved and inspired.
Today, the Chaya Malka Burn Foundation is dedicated to counseling burn victims in Israel and abroad and raising funds for their costly treatments. She is making a difference in helping them to resume living a normal life. The Foundation also presents educational programs on burn prevention, home safety and first response treatment in a free educational newsletter. You can sign up to receive it at www.cmburnfoundation.com.
Chaya Malka speaks of the power of prayer, spiritual faith and the selfless devotion of the community that supported her. She also discusses the Jewish soul and the value of inner being versus external appearances in a lecture focusing on her Downs-Syndrome child, who was born after the fire.
Chaya Malka has previously spoken for the Chabad House in Boyton Beach, Santa Barbara and the 5 Towns.
Her speaking tour in the US and Canada will be from May 11, 2014 to May 28, 2014.
For more information about setting up an event in your community with Chaya Malka Abramson call 914-336-4083 (Israel hours) or email from this page.
Here is a link to one of Chaya Malka's shiurim: http://koshertube.com/videos/index.php?option=com_seyret&task=videodirectlink&Itemid=4&id=7736


Read More