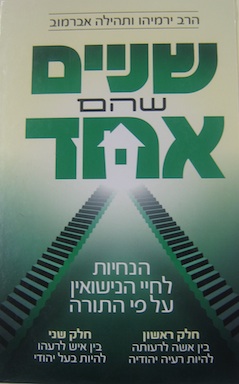 ---
Availability:

Unavailable

This product is no longer for sale in our Mikvah Mall.
Product Code:
B46H
---
Two Halves of A Whole in Hebrew, by Rabbi Yirmiyohu and Tehilla Abramov. From the
author of "The Secret of Jewish Femininity" and her husband, a Rabbi and
noted educator, comes this indispensable volume of Divrei Torah to help
promote Shalom Bayis. It includes Book I: From Woman to Woman and Book
II: From Man to Man. Hebrew. Hardcover.

Customers Who Bought This Product Also Bought: