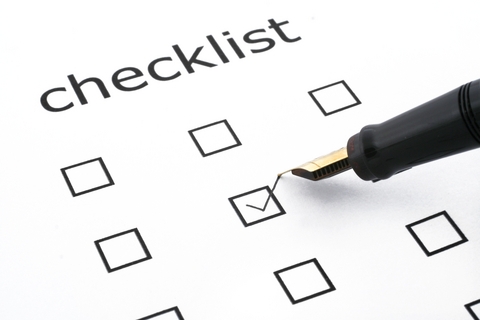 BS"D
Mikvah Checklist
Note: This checklist can be used by any woman and those having trouble estimating the amount of time they should use to prepare for Mikvah immersion. This list was approved by Rabbi Sholom Ber Chaikin, a Rav who deals especially with the laws of family purity. The timing allocations are suggestions, not Halacha, and is meant for usual circumstances.
Get ready for the beautiful zechus (merit) of this mitzvah, as you prepare in a spirit of joy. This covers the Chafifah part of the preparations.
Pre-Mikvah laws and customs:

Time Allocation

MAXIMUM Time Allocation

Comments

If you must cut your hair, do it three days before

If you cut a small snip on the day of Mikvah, cut away from your body

If you need to shave, do so one day before

If you must shave on the day of Mikvah, be careful not to cut yourself, and check for, and thoroughly wash yourself from, loose hair

If you need to wax, waxing 3 days before is preferable, but 2 days before is okay

Make sure wax is removed

Preparations:

Use warm water, and soap and shampoo that does not leave a residue

Brush and floss teeth (non-waxed floss is preferable), rinse mouth well (if you usually use other instruments such as a rubber tip or pixie brush, then add time and use it now)

2-3 minutes

4 minutes

Remove nail polish from fingernails and/or toenails

5 minutes

7 minutes

Cut and clean nails, fingers and toes: Pay attention to sides with skin overlapping the nail (some use instrument to clean the sides of toe nails). A nailbrush should work for inside and the sides of fingernails. Cut loose skin. If you need to cut a day early because of time restraints it may be allowed, but you must check with a Rav

10 minutes

15 minutes

Rabbi Chaikin says you should cut nails on day of Mikvah. If you cut nails the day before, file them on day of Mikvah.




Cut loose skin before you soak

Suggestion: When washing, start from your head and go downwards in order not to forget anything

Remove all jewelry and makeup, (eyeliner, eye shadow, mascara, lipstick etc.)

7 minutes

10 minutes

Soak body (you can work on your face and finger nails and underarm hair at the same time as you soak)

20 minutes

30 minutes

Wash hair with a mild shampoo that could remove any residue - (Long hair, built-up residue including conditioner require more time for removal)

2 minutes

5 minutes

Eyes - clean inner corners

1 minute

2 minutes

Ears - Pay extra attention to external part that can be seen and remove any leftover cotton from the q-tips. Use a clean earring stick to clean your earring holes

1 minute

2 minutes

Nose - blow and clean

� minute

� minute

Clean other bodily hair well (getting rid of deodorant and/or other residue))

3 minutes

3 minutes

Clean navel with q-tip - (make sure to get out any leftover cotton)

Should not take more than 1 minute

Should not take more than 2 minutes

Scrub the entire body, paying attention to folds, between the thighs, armpits, areas between fingers and toes and removing glue from band-aids, lotions etc.

5 minutes

6 minutes

Remove artificial teeth etc.

� minute

� minute

Clean vagina internally with warm water

1 minute

1 minute

Make sure there is no soap in nose, ears mouth or eyes

Rinse your entire body thoroughly from all soap and shampoo before immersion

3 minutes

4 minutes

If you go to the bathroom, rewash areas that became soiled

Should take about 2 minutes

Should take about 2 minutes

Comb head hair and separate by hand all other bodily hair (feel for loose hair)

3 minutes

4 minutes

Check yourself (pay extra attention to your face) and feel areas you cannot see

1 minute

2 minutes

Remove contact lenses

1 minute

1 minute

Wash hands if necessary

Total time needed to prepare

1 hour and 10 minutes

1 hour and 42 minutes

A few tips to immerse

Be relaxed and hold your lips and eyes gently (not tightly) together

Leave fists unclenched

Feel free to ask the attendants any questions you have

Be happy and feel confident, because Hashem knows you tried
Interventions such as scabs, splinters, blisters etc. should be discussed with a Rav.
Be aware of specifications for Friday or Yom Tov night, and ask your attendant if questions come up at anytime.

Please note: If your personal Rav paskens differently, there is no need to worry, you can go by his p�sak (decision).

If you have anxiety preparing for the Mikvah, you may be suffering from OCD*. You can seek a frum, recommended therapist who can help you. You may also call Rabbi Heller at 718-756-4632, who has helped women deal with questions after Mikvah. Rabbi Heller speaks Yiddish and Hebrew.
This checklist has also been approved for women with OCD* by Dr. Baruch Trappler, a psychiatrist and a renowned expert in trauma-research.
Amongst those who contributed to the project are, Mrs. Miriam Yerushalmi and the Taharas Hamishpacha International Organization. Miriam Yerushalmi has an M.A. in psychology and Marriage and Family Counseling, and directs a non profit organization called S.A.N.E. Save A Neshama Endowment � (www.sanesite.org). Taharas Hamishpacha International are the developers of Mikvah.org and MyMikvahCalendar.org. A copy of this checklist and an informative article on OCD* can be found on Mikvah.org.
For more information, contact Miriam at: 646-243-0842
*Obsessive Compulsive Disorder